Outfit ideas for a seaside getaway
Hello girls, Actuelle is back today to present you 3 ideal outfits to go for a walk, with family or friends, to be always on top! The beautiful days are back, so it's time to put on little dresses, skirts, and let your pretty legs take some air that have been locked in jeans for far too long...
#Walk in Cap Ferret
Cap Ferret is the sea, a fresh air that sweeps over your face and reminds you how alive you are... with your hair blowing in the wind, you let yourself be carried away by the bustle around you and the laughter of the children in the distance... and if you feel so good, it's also partly thanks to your pretty long dress Louna! Louna is perfect for a walk on the sea, it takes the sea at the same time as you... A feeling of vacations and well-being invades you when you put it on, its so light material caresses your skin and does not hold you too hot. Its small belt to be tied will mark your waist in a perfect way, and will embellish you as it should be! And its small dots will give you a feminine and elegant side that we all love.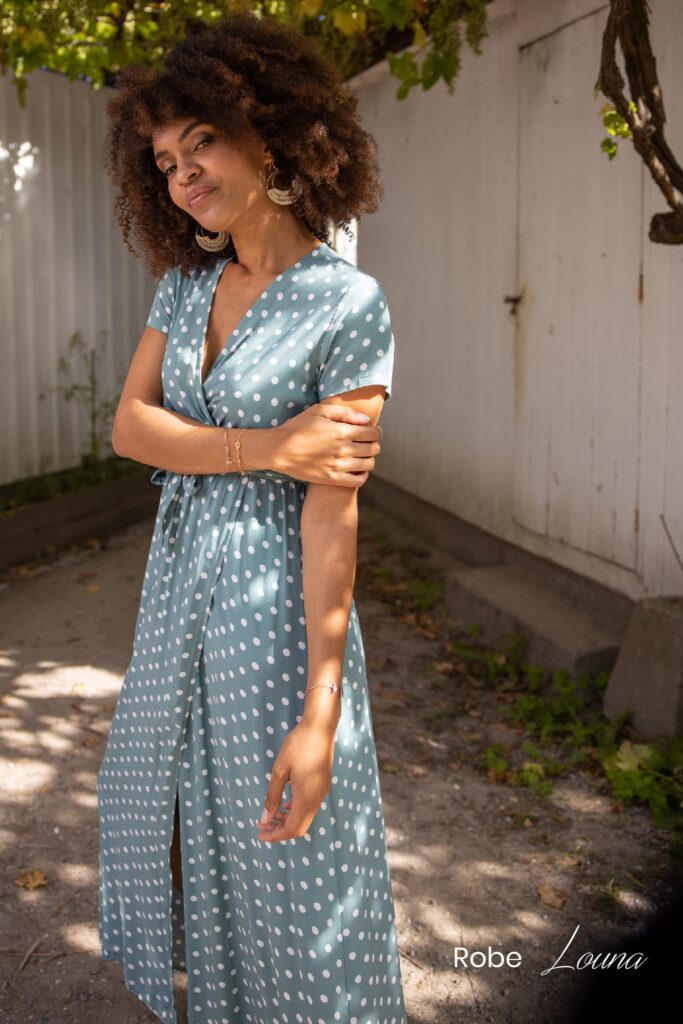 The short sleeves will reveal your arms, as well as the slit that will let you see your legs and will give a little sexy side to this outfit! We obviously do not forget her V-neck, which will let glimpse your cleavage, Louna has everything to please you ...
Succumb to its charm right here
. During the day or in the evening, it will make you the most beautiful!
#Walk in the Park
Escape to nature amidst the plants and greenery during a relaxing afternoon in the park. Whether you're taking a romantic stroll, a picnic with your girlfriends, or taking the kids out to play in the great outdoors, you still need the perfect
Actuelle
outfit to feel beautiful!
How about
our pretty Suzie skirt
, with its perfect midi length, its watercolor print that we'll love in blush or turquoise, and its elasticated waist? This skirt will give pep and color to your outfit, and you will be in perfect adequacy with the beautiful days which are well and truly arrived! Suzie is the embodiment of softness and femininity, living colors, as alive as you are wearing it... Match it to
our little Gabin
This pretty lurex tank top is available in silver, golden beige and powder pink: colors as soft as festive for a luminous walk! Complete your outfit with some nice sandals or a pair of sneakers, some gold jewelry, and you're done!
#Walk in the city
A little trip to the city in the summer is always good for you. A moment of shopping, a coffee in terrace... yes, but always well dressed! Actuelle advises you its suit set, with its pretty floral print on the shorts and the jacket, it will be perfect for a walk in town, and will offer you a superb silhouette. Match it with small bare feet or sneakers, nothing more simple and feminine. You're ready to
stroll around town with your Actuelle suit
!